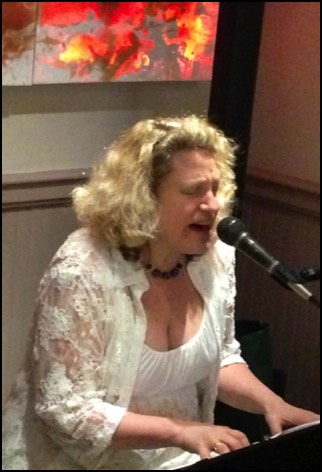 ABOUT LINDA MARKS:

As a small child, Linda Marks, was passionate about music and felt a magnetic pull to pianos and all things musical. Her first word was piano, and she was placed in a Longy School of Music experimental program for gifted and talented kids at age 3. She started writing music in grammar school, and wrote the 8th grade graduation song. Linda holds a degree in Music with honors and distinction from Yale University, where she co-founded Something Extra, Yale's 3rd women's a capella singing group, as a 17 year old freshman. She ran Café Calhoun at Yale, and both sang and produced musical shows. In the 1980's, Linda performed in the Boston acoustic music scene and sang and co-wrote songs with Lisa Wexler. She appeared on "Music America" with Ron Della Chiesa, and released a tape of original music, "Dreams and Themes" in 1983. She founded and ran the Boston Arts Roundtable, a group of musicians and other artists who gathered for camaraderie and produced multimedia concerts.

In more recent years, she has sung at the Acton Jazz Café, Ryles, Skipjack's, Amazing Things Arts Center and at the Boston Association for Cabaret Artists Open Mics in Watertown. She has produced and performed at benefit concerts at Scullers for Boys to Men New England, for the late Shirley Lewis , and a Music, Mentoring and Friendraising Gala, benefitting the Shirley Lewis Living the Blues Foundation and the Boston Minstrels, also at Scullers. In October 2014, she created, produced and performed in "Heart to Heart," a cabaret show including original songs and music from Barbra to Bachrach to Broadway to "Begin Again," which was written up in the Boston Globe. She served on the planning team and produced and sang in a Cabaret Fundraiser for the Newton Festival of the Arts in May 2015, as well as a Singer Showcase in collaboration with the Newton YMCA Center for Creative Arts in May 2015. She attended the 2015 St. Louis Cabaret Conference.

Building musical community and mentoring musicians are two passions for Linda. She sings in the Boston Minstrels, a volunteer group that brings music to homeless shelters, VA hospitals, prisons and mother places where music is too rarely heard and so deeply needed. She enjoys hosting musical community building events in the Music Salon.

Linda serves on the Board of the Boston Association for Cabaret Artists and co-produced the BACA 2014 Fundraiser. She leads workshops on the Power of Voice, coaching musicians to embody their music and sing from the heart, building on her nearly 30 year career as a heart-centered body psychotherapist. Linda is a heart specialist, working with the relationship of the emotional heart to the physical heart. You can learn more about her mind-body therapy and coaching at www.healingheartpower.com.

Linda holds degrees from Yale and MIT and is the author of Living With Vision (Knowledge Systems, 1988) and Healing the War Between the Genders (Heart Power Press, 2004).

Linda released her new Heart to Heart CD at Scullers Jazz Club on September 16, 2015. She is back at work with Doug Hammer at his Dreamworld Studio working on her new CD, Coming Full Circle (Release date Fall 2016).

Linda is grateful for the coaching work of Rebecca Parris, who has helped her reclaim the power of her own voice, Sandi Hammond, who has helped her optimize her vocal performance, John O'Neil, whose gift for the theatrical aspect of Cabaret performance is inspired, and the team of Faith Prince and Natasha Hause, for their eagles eye view of the entire artistic and performance process.