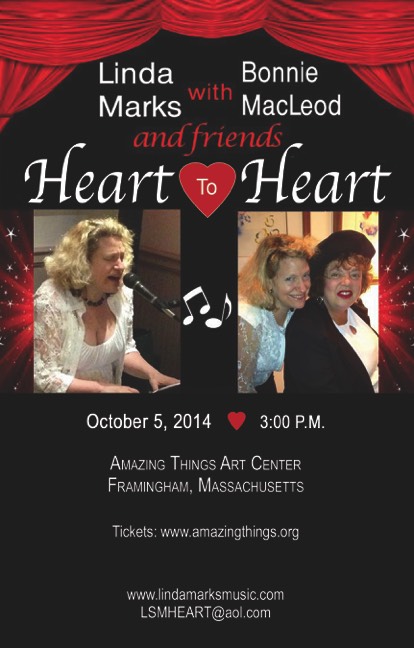 On October 5, 2014, Linda Marks created and performed a Cabaret Show, Heart to Heart, at Amazing Things Arts Center in Framingham, with pianist Bonnie MacLeod, and Miki Matsuki on drums, Geoff Wadsworth on saxophone, Matt BenDaniel on guitar, and Lisa Wexler, Linda's songwriting collaborator, on guitar and vocals.


"Heart to Heart"
is a journey in song through the lens of the heart including tender moments, tearful ballads and joyful play. From Barbra to Bacharach to Broadway to "Begin Again" and beyond, spiced with some originals by Linda Marks, we've selected songs that inspire, touch the heart and make you laugh, all in a magical balance.
Music is a universal language, that reaches deeper than words, and connects us all heart to heart.

Cabaret is a special form of musical performance that focuses on the relationship of the performer to the audience. It is most often done in intimate venues, so that there can be a heart to heart connection between audience and performer.

A
feature article
about Linda and her Heart to Heart show was featured in the Boston Globe.

To order a copy of Linda's Heart to Heart CD, click below: