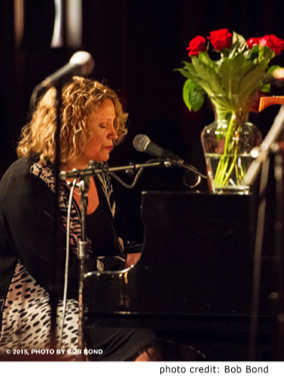 LINDA MARKS MUSIC

Music is a universal language that reaches deeper than words, and connects us all heart to heart.

Saxophonist Andre Ward often asks his audience after playing a couple of songs, "Can you hear me?" And when people answer, "Yes," he then says, "I know you can hear me, but can you feel me?

Songs from the heart touch the heart. And as we are touched we feel a full range of feelings from tears to joy. And as we are touched, our hearts open and often heal.

Through both her original songs and other songs that inspire her to sing them, Linda Marks brings her whole heart to the music as she seeks to reach the heart of her audience.

Having worked in the mind-body medicine field as a heart-centered body psychotherapist and life coach for more than 30 years, Linda loves to help others grow and heal through her Power of Voice workshops and coaching. Bringing people together and building community through music has fueled her vision for the Music Salon.

Linda released her Heart to Heart CD incorporating many of the songs from her October 2014 Heart to Heart Cabaret Show at Amazing Things Art Center in Framingham, on September 16, 2015 at Scullers Jazz Club. She released her "Coming Full Circle" album at Scullers Jazz Club on September 1, 2016. In 2017, Linda released "Say Yes To Love" on September 1 and "Singer/Songwriter" on November 25 to great reviews. She is currently working on "Moments", to be released in 2018 and a sixth album, "In Grace, " with Doug Hammer at Dreamworld Productions.

Linda serves on the Board of the Boston Association of Cabaret Artists (BACA).



Linda writes a monthly e-newsletter that includes musical updates and articles about matters of heart. To receive her Healing Heart Power newsletter, sign up below.